We will be selling Marmaduke cups, stickers, and Sonic cards. Cups $5.00 Stickers $3.00 or 2 for $5.00 Sonic Cards $5.00 (coupons are good through Dec. 2022) All 3 for $10.00 Let Traci Foster know or any of the swim team if you want something. Thanks for your support. Nathanael Adams Riley Benson Kristian Glover Riley Parker

Friday, October 1, starting at 10:30 am the internet will be down for 2 hours. Also, no calls coming in or out of the school building will go through.
WE ARE READY! LET THE 2021-2022 SCHOOL YEAR BEGIN! First day of school will be this coming Monday, August 16th. We encourage all parents to check out the latest Return to Learning Plan located on our website. You can find this updated plan under the MENU tab. This plan has procedures that will be in place to keep our students safe while we provide them the excellent educational experiences that they deserve. We will be keeping a close eye on current health conditions and making adjustments as needed. We will post any changes on our website, Facebook pages, and our app. Be sure to check these social media platforms often.
There are two new documents have been placed in the Parents section of the District website. These are information letters from our Superintendent, Mr. Keith Richey. Please read these when you have a chance. ​

School Supply Lists for Grades 3 through 6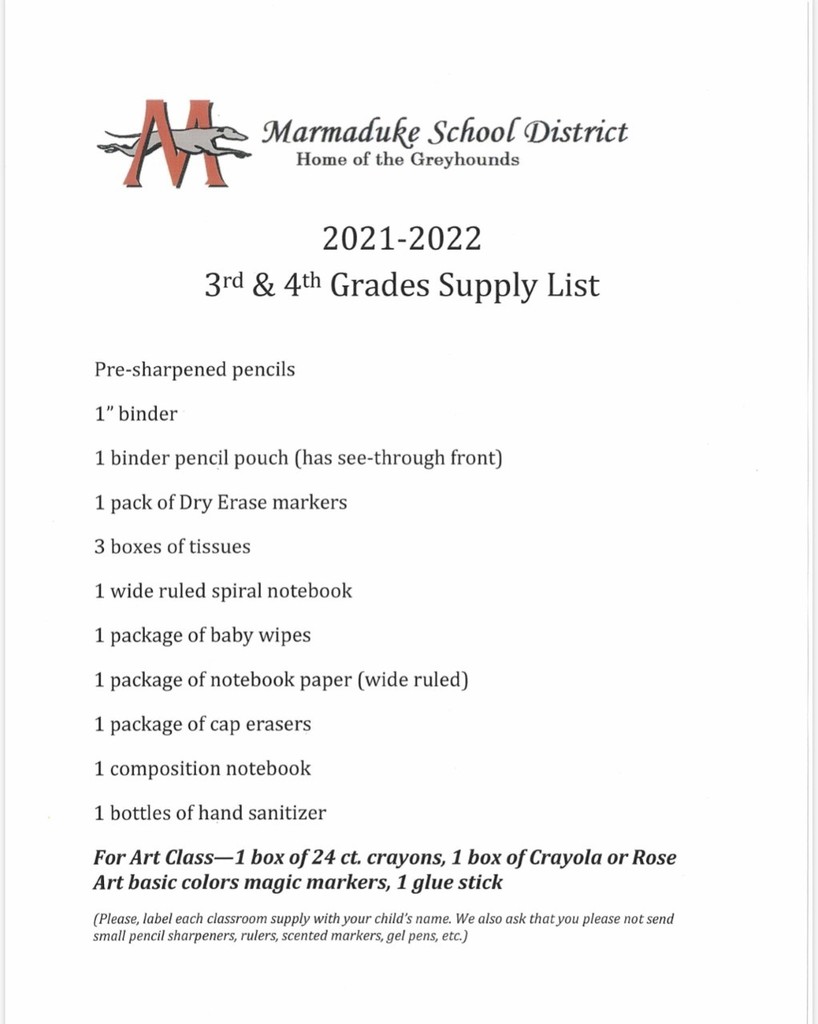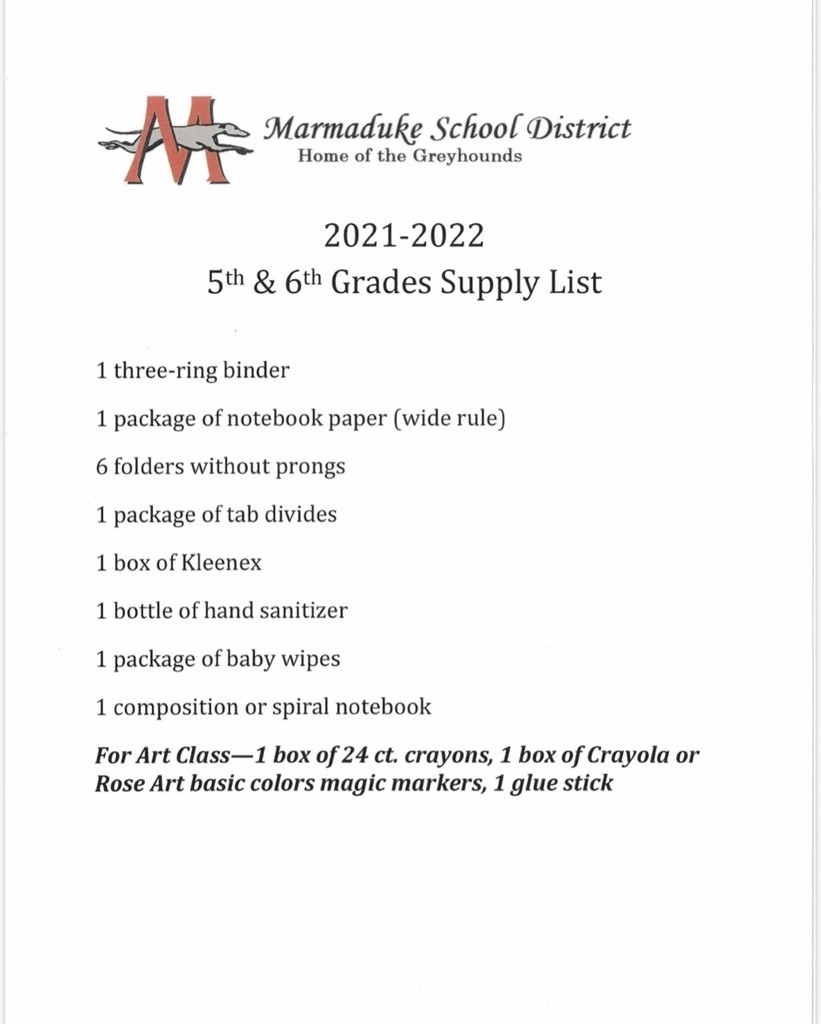 School Supply Lists for Kindergarten through 2nd Grade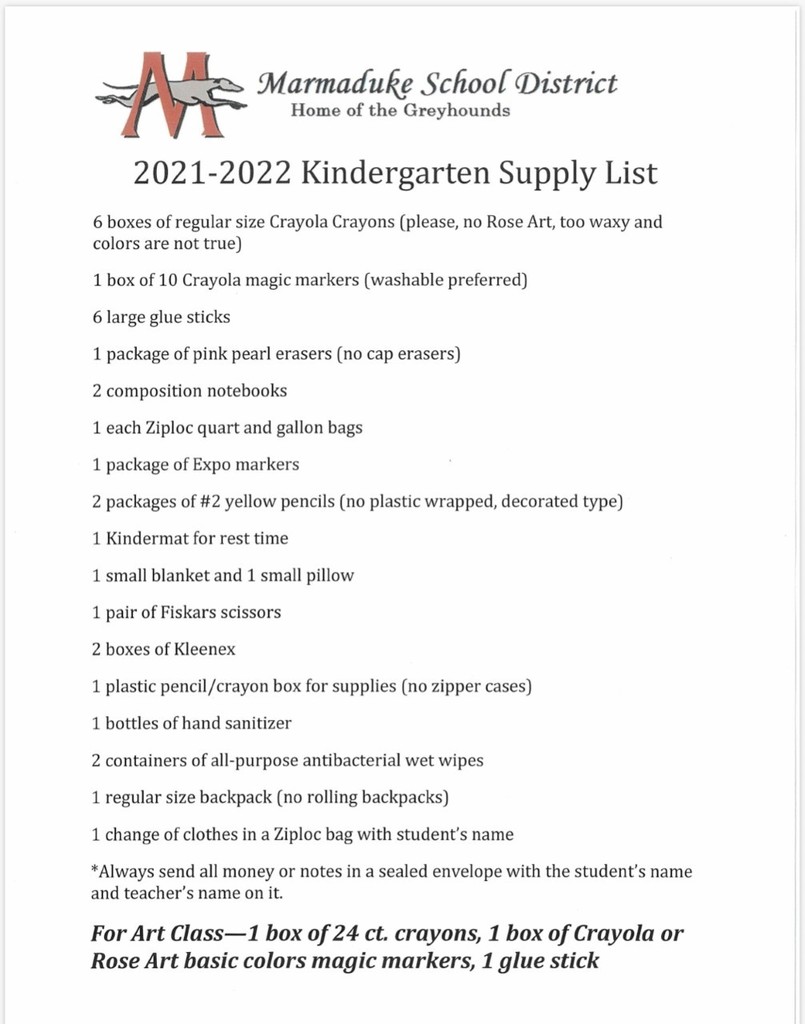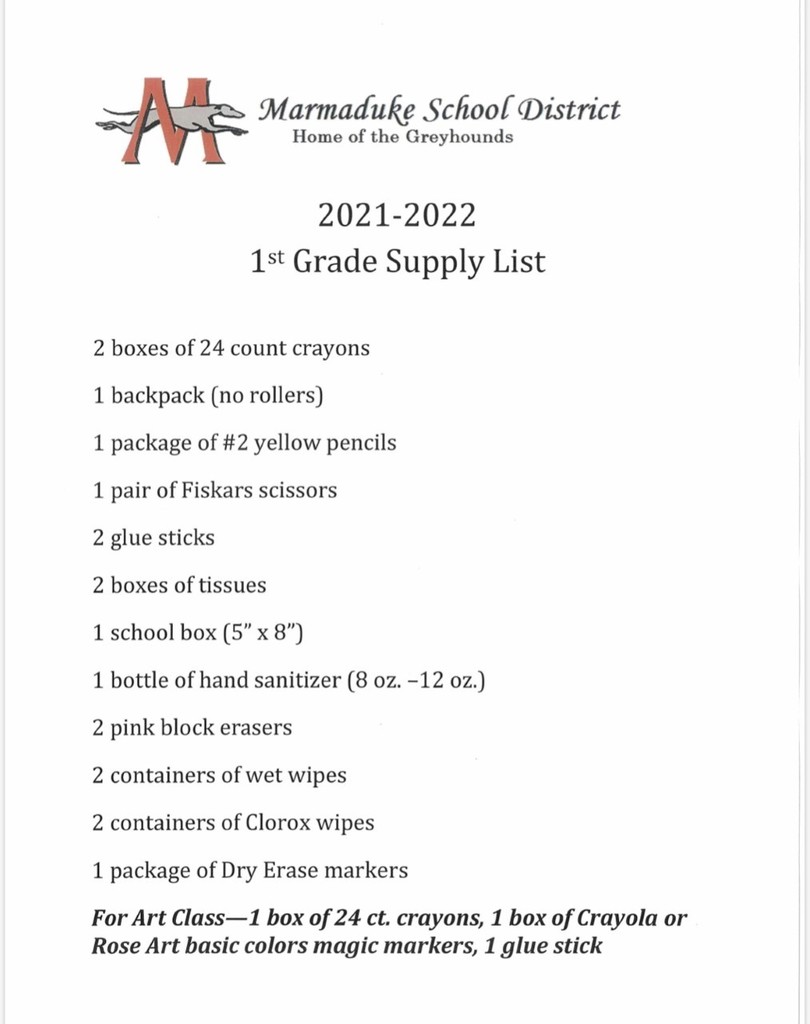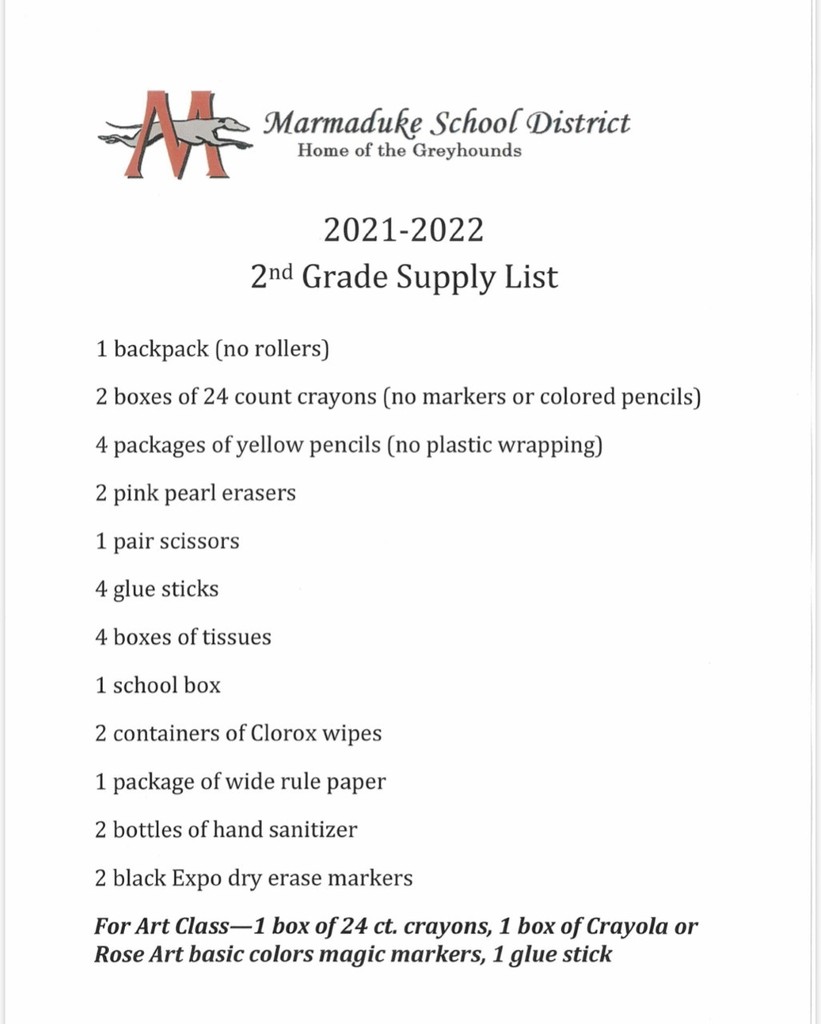 Good Morning! Just a reminder that the Marmaduke School District (as well as the Preschool) will be open this Friday, (April 2nd). The employees voted to take April 16th in lieu of Good Friday as a spring day off. We will be closed on Friday, April 16th! Thanks and please continue to stay safe!
Good Morning. We want to let everyone know that we are keeping a very close eye on the weather today. Should we see the need to move the students to safe room, we will not allow students to leave or be checked out during this time. Once the weather has passed, we will return to our normal routines. It is also a possibility that the weather could impact us at our normal end of the school day. If this is the case, then we will hold the students until it is safe to run the busses and to dismiss the car riders. The safety of our children is always our number one priority!

The school board meeting scheduled for March 8 is postponed until March 9 at 6:00pm.

Here is the link to purchase tickets for the girls' regional tournament basketball game against Carlisle at Rector High School on Wednesday, March 3rd at 10:00am. This link will be good until Tuesday, March 2nd at 3:00pm.
https://gofan.co/app/events/247730
This link is our school link for our fans. With the good news that the AAA is now allowing 50% capacity for the games, we are now allotted 325 tickets instead of 200. This link will be good until Tuesday, March 2nd at 3:00pm. At that time, any unsold tickets will be open to the general public, including the opponent. You must use the link below to purchase tickets if it's after Tuesday at 3:00pm.
https://gofan.co/app/school/AAA
If you try to purchase any and it says the event is sold out, please wait until Tuesday at 3:00pm. Any of the 325 tickets that Carlisle was allotted that they did not purchase will be open to purchase. Let's buy all the tickets we can and come out and support the Lady Greyhounds as they try to punch their ticket to the State Tournament.
The Marmaduke School District (and Preschool) will be closed tomorrow, 2/16, due to inclement weather. This will be a virtual day for our students.
The Marmaduke School District (including the Preschool) will be closed tomorrow, 2/12, due to the continued weather and road conditions. This will be a virtual learning day. The District and Preschool will be closed on Monday, 2/15, in observance of Presidents Day. This is not a virtual day. We hope to return to school on Tuesday, 2/16. However, we will continue to monitor the weather. Be safe!
Due to the hazardous weather and potential road conditions, the Marmaduke School District will be using virtual learning tomorrow, 2/11. Students will not be on campus. Please stay safe!
Due to the potential hazardous weather, the Marmaduke School District will be using a virtual learning day today.
MSD Reminder: Tomorrow (1/18) is a virtual day for grades K-12. Preschool will be open. Sack lunches (K-12) will be served from 11-12 at the H.S. Pavilion. Enjoy the day & stay safe!
First and foremost, everyone is safe! A Marmaduke School District student received an anonymous bomb threat by text message at approximately 12:00 p.m. on January 8, 2021. Safety protocols were immediately put into place and within minutes a student was identified and quickly admitted that they were trying to make a joke. Law enforcement conducted a precautionary sweep of the building. Regular school activities have resumed, and there is no threat of danger to the district's students or staff. The district takes all threats of violence seriously, and this matter will be handled in accordance with the student handbook.
The Junior & Senior High Girls Teams return to the home court tonight starting at 5:00pm. The 7th Grade & Senior High Boys Teams will play tonight at Riverside starting at 6:00pm.
The upcoming basketball games against Piggott (11/19), Salem (11/21), & Mammoth Springs (11/23) have all been cancelled.
The Marmaduke Junior High and Senior High School will transition to virtual learning beginning Tuesday, November 17, through Friday November 20. The difficult decision of transitioning to virtual learning was made due to the increased number of positive cases and increased number of quarantined students and staff. At this time, the Elementary and Preschool will remain open. MJHS and MHS students will continue to receive instruction through our current platforms utilizing teacher led instruction. Students will virtually attend classes and meet with their teachers through these platforms to receive instruction. Monday, November 23, and Tuesday, November 24, were already planned as virtual days for all of K-12. We will also use Wednesday, November 25, as a K-12 virtual day to make up for Thursday, November 5, when we had to dismiss due to a water main breaking. The District will utilize these days to sanitize and deep clean. We will continue to follow the mandated guidelines of the Arkansas Department of Health and the Division of Elementary and Secondary Education as we are working very closely with both groups to slow the spread of the virus. All lessons and learning will be done virtually thorough the educational platforms we have been using while students are on campus. Students should be familiar with these since they use them every day, but if they have any questions or issues, please email their respective classroom teachers on these dates. Teachers will be available from 8:00-3:00 on these days. Laptops and accessories will be sent home today with students. Students will keep these until they return to school from Thanksgiving Break on November 30. Please bring all devices and accessories to school on that day. If a student was absent today and needs to pick up a laptop, please call the school and we will get one ready for you to pick up. Teachers will use email or the educational platforms to communicate with students. Students need to check these throughout the day. Attendance will be taken for each class and the instructions for that will come from the teachers. If a teacher needs to virtually meet with the class or individual students, they will let the students know. If not, the students will need to simply complete the assigned lessons. Tuesday-Friday 7-12 grades will have grab and go lunches from 12:00-1:00pm at the pavilion where we handed them out this summer. Friday's grab and go lunch will also include meals for the 3 virtual days next week. ​Wifi is available at the pavilion behind the high school. This is the school's internet, so the school devices should automatically connect to it. Hot spots are available at the parking lot by the elementary gym and in the parking lot to the left of the high school steps. Signs are located there with the password. We ask that everyone help slow the spread of the virus by wearing a mask properly, social distancing, and washing hands frequently. Please take necessary precautions, especially during the Thanksgiving break.
Tonight's away games at CRA for Boys Basketball have been cancelled.